Get Inspired + Best Sellers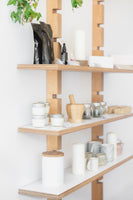 Why Love and Happiness Sanctuary ®️
When you light a candle, they are giving off much more than just a scent. The fumes will carry the ingredients of your candle to the rest of your house (and your lungs). Because the candle industry isn't highly regulated, many candles harmful ingredients.
In 2018, I made the first eco friendly candle and gave them to friends, I didn't  realize it would be so popular - or maybe that should have been a given. Who doesn't love candles? There's just something so cozy about a lit candle, but it's important to choose ones that aren't allowing toxic chemicals to be released in your home.  
Everything is handmade in house from 100% certified plant-based blend of coconut wax, and plant-based fragrance. Even the wick is lead-free and unbleached. If you are looking for a zero-waste candle, I highly recommend. 
Our products are never tested on animals, and there are no parabens, no sulfates, no phthalates, or fake perfumes. Love and Happiness is an West Coast brand with a strong commitment to sustainability.
The Love and Happiness Sanctuary ®️ Blog
Experience lOVE AND happiness