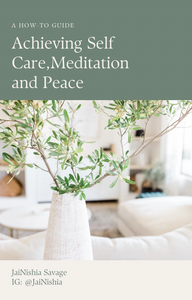 Discover the path to a more balanced and harmonious life with our e-book, Self care, Mediation and peace. In today's fast-paced world, finding moments of serenity and self-care is essential for your well-being. This comprehensive guide is your roadmap to inner peace, mindfulness, and self-discovery.
Inside you'll find:
1. Self-Care Rituals: Learn how to prioritize self-care and create a personalized routine that rejuvenates your body and mind. Explore practices like skincare, nutrition, exercise, and mindfulness that promote overall well-being.
2. Meditation Mastery: Dive into the art of meditation with step-by-step instructions for various techniques, from mindfulness to loving-kindness. Whether you're a beginner or an experienced meditator, you'll find valuable insights to deepen your practice.
3. Stress Reduction Strategies: Discover effective strategies to manage stress and anxiety in your daily life. Learn how to cultivate resilience and cope with life's challenges.
4. Mindful Living: Embrace mindfulness as a way of life. Explore how to bring mindfulness into your relationships, work, and everyday activities, fostering a sense of presence and connection.
5. Inner Peace and Happiness: Uncover the secrets to lasting happiness and inner peace. Explore techniques to let go of negativity, develop gratitude, and cultivate a positive mindset.
6. Healing and Transformation: Learn how self-care and meditation can promote emotional healing and personal transformation. Discover how to overcome past traumas and find strength in vulnerability.
7. Guided Practices: Access downloadable guided meditations and self-care exercises that complement the book's teachings, making it easier to incorporate these practices into your daily routine.
This  your guide to living a more balanced, peaceful, and fulfilling life. Whether you're seeking stress relief, personal growth, or simply a moment of tranquility, this e-book provides the tools and wisdom to help you embark on your journey toward self-discovery and inner harmony.
Take the first step toward a more peaceful and meaningful life. Start reading today and unlock the power of self-care, meditation, and inner peace. Your journey to a better you begins here.
Digital Download | 8 pages
Self Care Journal Mailed